Friday, May 19th, 2017
In the fall of 1991 into the winter of 1992, I was a senior in college. It was the moment when Nirvana and Pearl Jam were hitting the campus like a genuine thunderbolt. It's cliche, sometimes, to say that such and such a band "changed things," but I can tell you that, Nirvana especially, genuinely did. You could feel it. I remember it.
But there was another band that blew me away even more. Soundgarden.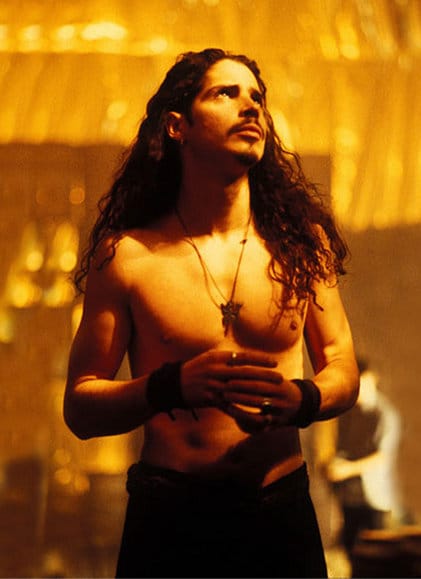 I was still listening to mostly '80s metal type stuff at that point, but I was getting restless with it. There was so much garbage. So the time I got to work on our campus radio station the prior two summers, I was turned on to all sorts of alternative rock that was great. Thankfully, the supervisor of our station geared things towards more guitar-oriented rock, as opposed to the more dancy alternative of, say, Depeche Mode and its ilk — not that there's anything wrong with Depeche Mode, I like some of it.
But this enabled me to pick up on Faith No More, who I just ran with after that and remain an all-time favorite. I also first heard of Soundgarden. The station had played a couple tracks — though I didn't do a deep dive into yet.
Then one day, I was taking a long road trip to Florida from upstate New York. It was December, it was the middle of the night, and we were driving through South Carolina, of all places, when the DJ must have decided he needed to take a pee or something. He put on the entire Soundgarden Badmotorfinger album — which had just recently gotten released — start to finish.
My reaction was immediate. What is this? This is awesome. It knocked me over right away. I couldn't wait to get back to NY so I could buy the thing and play it over again.
Soundgarden went on to release their popular breakthrough Superunknown in 1994, and I played that thing up the wazoo as well. For a while, I thought it was the best record of the '90s, until I realized that I liked Badmotorfinger more. Then came Down on the Upside in 1996, and I didn't like the singles they released from that album as much. They were good songs – but not "blow me away Soundgarden" quality. It wasn't until many years later that I realized the deep cuts of that album were pretty good in their own right.
Then Soundgarden broke up. It was probably for the best, I said at that time.
When they came back in 2012, the singles they released here and there were really good. But the best part of it was that it afforded me the opportunity to see them live a few more times. Soundgarden was never a stellar live band, in the sense that Chris Cornell is not a showman, like Eddie Vedder or Billie Joe Armstrong. They just play the songs and not much else. But it's an experience as much as anything — being there amid all of that sound and fury.
They also released Echo of Miles, a compilation of stuff they had done, like B-sides. And I had never heard them before. It was like hearing a new Soundgarden album for the first time — something with the tone and sensibility of that late '80s/early '90s era. Tremendous stuff.
Needless to say, Chris Cornell's death this week hit me with the same thunderbolt that all that music did in 1991. I don't need to repeat much of what others have said — the shame of it, the fact that it takes one more piece of our youth away, that he's yet another Seattle-area singer to leave us too soon. But his hit the hardest, because, for one, I thought he had it together these days, and two, he (along with Layne Staley) were the pinnacle for me. I revered these guys' talents.
Like many others, I started listening to their catalog over and over when the news broke. Chris Cornell had a lot of amazing solo stuff, too — the acoustic covers he did at many live shows, some of which are incredible (the U2/Metallica 'One' mashup? my god); and his Euphoria Morning album with the incomparable "Sunshower" track. And of course, there was the Audioslave work, and the Temple of the Dog album, great stuff in their own right.
But I focused on Soundgarden — and as a result, realized all over again just how incredible they were. Even the early releases like the Screaming Life EP, and of course Ultramega OK and Louder Than Love. Stuff that I never really dove into after Badmotorfinger came out. Those early releases are filled with one great track after another, powerful stuff that I had forgotten about.
So with all of that said … here are my Top 30 Soundgarden tracks of all time. Don't expect all of the popular ones. My tastes fall not on the pop hits, as good as some of them may be, but squarely on that dirgy, psychedlic grunge-metal sound. And there's a lot of good ones of those buried inside stuff many people haven't heard. I hope you listen to these.
A lot of this is splitting hairs, so don't worry about exact placement too much. I may change my mind tomorrow on the order.
1. Slaves and Bulldozers – Badmotorfinger
2. Hands All Over – Louder Than Love
3. Rusty Cage – Badmotorfinger
4. Mailman – Superunknown
5. Jesus Christ Pose – Badmotorfinger
6. Birth Ritual – Singles Soundtrack
7. The Day I Tried to Live – Superunknown
8. Cold Bitch – Spoonman B-side
9. Searching With My Good Eye Closed – Badmotorfinger
10. Tighter & Tighter – Down on the Upside
11. Loud Love – Louder Than Love
12. Hunted Down – Screaming Life
13. Limo Wreck – Superunknown
14. Power Trip – Louder Than Love
15. Beyond the Wheel – Ultramega OK
16. Spoonman – Superunknown
17. Rhinosaur – Down on the Upside
18. 4th of July – Superunknown
19. Blind Dogs – Basketball Diaries Soundtrack
20. Black Rain – Telephantasm (Compilation)
21. I Awake – Louder Than Love
22. Head Down – Superunknown
23. Room A Thousand Years Wide – Badmotorfinger
24. Toy Box – B-side
25. Outshined – Badmotorfinger
26. Flower – Ultramega OK
27. Holy Water – Badmotorfinger
28. Hand of God – Screaming Life
29. Nothing to Say – Screaming Life
30. Blood on the Valley Floor – King Animal
I left out these hits … In somewhat order of how much I like them:
Pretty Noose
Blow Up the Outside World
Fell on Black Days
Black Hole Sun
Burden In My Hand
My Wave