Posted by: brett
Albany NY – ECAC Hockey commissioner Steve Hagwell released today the new logo and new league name of the conference formerly known as the ECACHL, and formerly formerly known as the ECAC. To avoid confusion the league also named a new spokes model: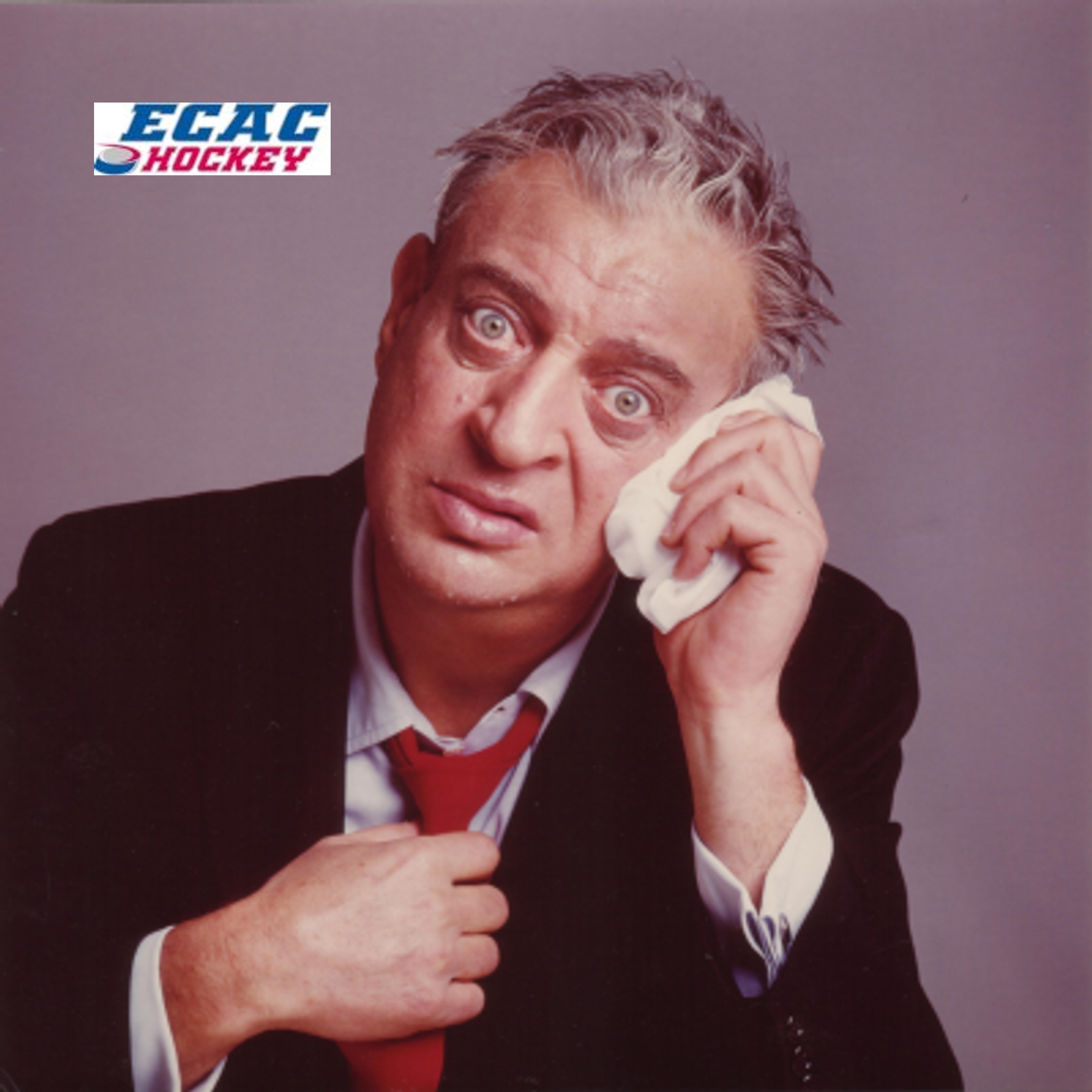 Hagwell commented on the new logo:
"The new logo uses the same blue and red look combined with a profile shot of Rodney Dangerfield in his prime. The font, Comic Sans, is a strong traditional typeface that is laid back and not serious, while the bold style of the letters and the introduction of the tagline give the mark a feel good feel."
When asked if the league was persuing a new catchphrase, Hagwell said an team of comedians, bloggers, and one student representive from each school was asked to send in a list of what they thought would be the best new catch phrase.  The league whittled the list to the top ten and will have player of the year, Drew Bagnall shoot pucks with each slogan written on them at goaltender of the year David Leggio.  Which ever ones beat Leggio will be kept and set up for another round, when the last puck is left, the slogan will be decreed.  Here is the list of 10:
ECAC Hockey: You must have been something, before electricity.
ECAC Hockey: When we came out the doctor slapped our Dad.
ECAC Hockey: Now with less Vermont.
ECAC Hockey: If Albany doesn't work, we'll just go to Lynah.
ECAC Hockey: We refuse to recognize the rebel conference of Hockey East.
ECAC Hockey: Did you catch our game last night?  It was on TV!  It wasn't?  What did they show?  Pre-Season baseball?  The Diamondbacks? Did Johnson pitch alright?
ECAC Hockey: Pay attention, Ruth Bader Ginsburg is lacing 'em up tonight.
ECAC Hockey: Want to make 14 dollars, the hard way?
ECAC Hockey: Score a goal, win a CAR!!!!
ECAC Hockey: Dropping the L will make our players 14% more aerodynamic.